Usage Tips for Outdoor Solar Lights
Solar powered lights add a lot of features to outdoor landscaping, giving you more flexibility when designing your garden. To get the most out of your solar outdoor lights, you still need to maintain and use them properly. Outdoor solar landscape lightscan last for many years of continuous operation if well cared for. Of course, choosing a high quality brand is also important. In this learning article, we present some tips for improving the lifespan and performance of solar powered lights.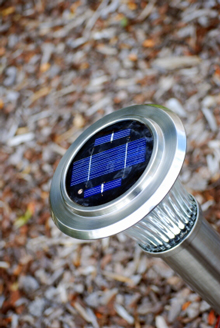 You have just installed solar lamp post lights or hanging solar lanterns and you are now illuminating your garden at night. These solar garden lights work simply by using power from solar panels and one or more rechargeable batteries. Through the PV effect, the solar panels generate electricity from sunlight and thus charge the batteries during the day. When it gets dark, the energy stored in the batteries powers an LED light.
Related article: Solar Powered Lights - Go Green and Brighten Your Landscape
Siting and panel tilt angle
Solar panels are found on top of solar garden lights. Although geographic location and weather conditions strongly affect solar panels' output, you can always follow a few simple steps to optimize your lights' performance. In order to fully charge the panels, you should put the solar lights in an outdoor space where there are 6-8 hours of direct sunlight per day.
Pay attention to trees, walls or roofs that could shade the solar panels and lower their output during the day. Also, the panel tilt angle of some garden solar lights, like security solar lights or solar power spotlights, can be adjusted to make the most of the sun. In the United States, for example, you should set the panels' tilt angle to about 30 degrees in summer and 45 degrees in winter. Naturally the panels should also be facing south.
Charging before use
You may be excited after purchasing a set of solar path lights and eager to install them. However, don't immediately put them to use. First allow the lights to be exposed to direct sunlight for about 5-10 cycles (charging at day and discharging at night) in order for the battery to charge to its full capacity. Afterward you will find that the lights can last at least 8 hours in dark, almost from dusk to dawn.
Avoid street lighting
Most solar garden lights are automatically turned on and off by a light sensor that detects surrounding light levels. At night, when light levels are below a value in the sensor's memory, the light is activated. Similarly, the light will automatically turn off at dawn when it detects more light. In order for it to work properly, the sensor needs to be sited properly. When choosing a spot for your solar light, ensure that the device is not placed near night-time light sources such as porch lighting or street lighting.
If it is poorly located near a light source, the solar light sensor will react to ambient light as well as artificial light source simultaneously. The high powered porch or street light (compared to solar landscape lights) will thus decrease the sensitivity of the solar light sensor and could even eliminate the solar light's automatic activation capability.
Cleaning solar panels
It is important that dirt and debris is kept off of the solar panel to the greatest extent possible. A dirty solar panel will not fully charge the battery and thus shorten the battery life. Operating solar lights covered with dirt and debris may cause the light to malfunction. To maintain high performance make sure to clean the panel regularly with a dry cloth and warm soapy water. Also, remember to clean snow off the panel in winter.
Battery replacement
Generally speaking, the rechargeable battery can be replaced every two years in order to maintain the maximum capacity. If you have a long winter or extreme weather conditions in your area, it would be better to change the battery every year.
Storing solar lights
Solar lights for garden can be left outside year round, even in cold weather. However, if you wish to store your light indoors for more than three days, follow these steps to prevent damage to the light's rechargeable batteries:
Store lights at room temperature in a dry location.
Store the solar light where it can receive some sunlight or artificial light each day. The battery needs light to maintain a charge during storage.
During prolonged storage, units must be fully discharged and charged once every month. Otherwise you can also remove the batteries and replace them when ready for use.
Do not store solar lights in a box or a dark room without a source of light on the solar panel. This will damage the batteries and deteriorate their ability to hold a charge.
For best performance, do not store for prolonged periods.
Using these basic and simple tips, you should get years of use out of your solar landscape lights, solar patio lights and other solar lights you use outdoors.