Solar Powered Lights - Go Green and Brighten Your Landscape
Are you tired of installing and maintaining your outdoor lights' complex wiring system? Worried about mischievous critters chewing the wires? Bored with looking at out of date incandescent lights and want to redecorate your yard? Want to cut down your outdoor lighting electrical bill? If you answered yes to any of these questions, you should consider outdoor solar lights.
Eco-friendly and energy efficient, solar outdoor LED lights can solve many of the issues presented above. Due to their multiple benefits, solar lights are being used by many homeowners in their outdoor landscaping projects. In this learning article, we will give you detailed descriptions of solar outdoor lights so that you can make an informed outdoor lighting decision.
Working principle - harnessing the sun's power
What does solar power bring to outdoor landscaping? Well, a solar powered garden doesn't need grid electrical power to light up at night. Solar lights come with solar panels and one or more rechargeable batteries. Through the PV (photovoltaic) effect, solar panels generate electricity from sunlight. Thus batteries connected to the panels in an electric circuit are charged during the day. When it gets dark, the energy stored in the batteries powers an LED light. The whole process is completely green and there is zero extra cost after purchase.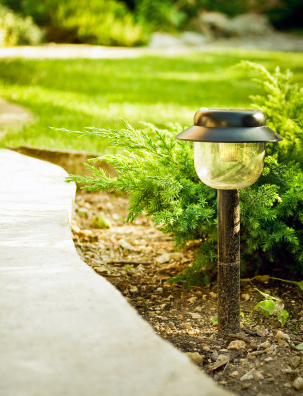 More than 95% of solar light panels are either monocrystalline or polycrystalline. Only a few use amorphous silicon modules. As for the rechargeable battery, 1.2V Ni-Cd, Ni-MH and lithium-ion batteries are widely used. The batteries' capacity depends on the solar light's application, and can range anywhere from 600mAh to 800mAh. For example, if the solar light is used for bright lighting in a garden it may require two rechargeable batteries, or even a battery pack, with a 3200mAh capacity.
During daytime, the solar panels will convert sunlight into electricity for about 8-10 hours. The solar panel efficiency and the battery capacity will determine the light's working hours at night. Though performance depends on operating conditions, most solar lights can work an amazing 8-12 hours when fully charged. There's no need to worry about turning solar path lights on and off every day. Compared to ordinary wired lights, one benefit of outdoor solar lights is that they have a sensor that monitors lighting conditions. When you drive back home from office at dusk, you will find that your solar lamp post lighthas been automatically activated. Naturally, the sensor will also turn off the light automatically at dawn.
Related articles:
Application - elegant solution to lighting your outdoor space
Free of wiring, solar landscape lights can be set up easily in a matter of minutes and placed almost anywhere outside your house. When you purchase a solar light, the connector, deck/wall/fence mounting bracket, screws and installation instruction are all included. All you need to do is find a screwdriver and mount your light.
The solar garden lights also have a wide variety of styles, ranging from traditional and simplistic to modern and futuristic. Two features of outdoor solar lights give homeowners more landscape design freedom. First of all, you are no longer limited by how far the light's wires can reach. In addition you don't need to worry about whether the light's appearance matches that of your garden. With a solar powered garden you are only limited by your imagination.
Solar outdoor lights are usually categorized according to their application as follows:
| Sub-category | Application and description | Relative size among all the kinds | Working time when fully charged |
| --- | --- | --- | --- |
| Solar path lights | Decorating and lighting the driveway, pathway, lawn, patio. | medium/large | 7-12 |
| Solar spot lights | Decorating and lighting the walkway, lawn, trees, flowers. | small | 6-10 |
| Solar security and flood | Lighting the entryway, garage, steps, etc when motion detected. | small/medium | 3-5 |
| Hanging solar lights | Decorating and lighting the shrub, porch, trees, flowers. | small/medium | 6-10 |
| Solar lamp post lights | Decorating and lighting the driveway, pathway, garden. | large | 6-12 |
| Solar stepping stones | Decorating and lighting the walkway, pathway, lawn. | small | 6-10 |
| Solar deck lights | Decorating and lighting the porch, garage, fence, backyard. | small/medium | 7-10 |
In most cases, you need several outdoor solar lights of the same kind to meet your landscaping and lighting requirements. Therefore, you will find in SolarTown's solar light section solar lights in packs of 2, 4, 6, or 8 lights. The number of lights you need depends on how large your site is and where you want to put them. Once you have bought your solar powered lights you can use your imagination to explore different landscaping designs such as uplighting, downlighting, grazing, and silhouetting.
Related articles:
Price and cost saving
Now you may not think of solar landscape lights as a good investment, but as the following example shows, besides the convenience of solar lights, purchasing solar lights may actually save you some money. The price of solar outdoor lights varies considerably according to the manufacturer, application, and power rating. Most models are sold for between $15 and $200. However, once put into use, they may save you some money. Take this simple example.
Suppose a homeowner in Maryland has eight 40-watt wired incandescent lights in his driveway and backyard and they are operating somewhere around five hours every day of the year. That would mean that the homeowner is using about 580 kWh per year--that is a lot of electricity when you consider that the average cost per kilowatt hour costs around 12 cents per kWh and in some parts of the country a lot more than that. That would mean that the homeowner is paying roughly $70 a year to light up his yard.
Now if the same homeowner goes out and buys solar landscape lightsfrom SolarTown, it will cost the homeowner about $150 for a solar light set including eight lights. The payback would be just over two years. Our Maryland family could enjoy many years of free outdoor lighting after the two years.
Power or luminance: are they bright enough?
LED lighting presents many advantages over incandescent lighting including lower energy consumption, longer lifetime, improved robustness, smaller size, and faster installation. Most solar landscape lights contain multiple LEDs. LEDs give solar lights a wide range of colors such as soft white, white, cool white, and color changing. This gives you more flexibility when designing your outdoor environment.
Some critics of solar LED lighting are suggest that outdoor solar LED lights are not bright enough. These skeptics use the lights' small wattage ratings as evidence. There are indeed some solar lights that are not very bright, but it is not because of the wattage. When talking about brightness, it's the luminance, not the power that matters and that is what you need to check when you are purchasing your solar landscape lights.
Luminance actually has an effect on what people see, power does not. We know that heat always accompanies light. When Thomas Edison first invented the incandescent light bulb, only 1% of the power was converted to visible light. This meant that if the bulb was given 100 watts power, 99 watts would be wasted in generating heat! Instead of looking at LEDs' wattage, the unit for power, we should be looking at their lumens, the unit for luminance.
Compared to the traditional incandescent and fluorescent light bulb, LED has a much higher power to luminance conversion efficiency. Take a look at the table below.
| Lighting category | Luminous efficiency |
| --- | --- |
| Incandescent light | 12-24 lumens/watt |
| Fluorescent light | 55-80 lumens/watt |
| LED light (commercial) | 100-120 lumens/watt |
Imagine we have 18 lumens/watt incandescent, 60 lumens/watt fluorescent and 100 lumens/watt LED lights. A 10-watt solar garden LED light will give off the same brightness as a 60-watt incandescent light or an 18-watt fluorescent light. If not quite strong enough for indoor lighting, solar LED lights are surely bright enough for outdoor use depending on what you need to light up.
In all cases for your walkways, yards, patios and other outdoor space, you will want to give solar lights a chance to enhance your landscape.
Related article: Shedding Light on Solar Lighting: Are they Bright Enough?