Solar Lamp Post Lights Guide: Brighten Your Yard
Overview
VELUX is an environmentally-conscious company that is focused on the creation of skylights and roof windows. Today, the company's product lines include blinds, electronic accessories, solar panels, and shades, in addition to several skylights and roof windows. The company, based in Denmark, aims to help residents and businesses get more daylight and sunlight into their spaces with VELUX products. The company, founded in Denmark, is now officially a group of companies, which has a physical presence in more than 40 countries.
Company website: https://www.veluxusa.com/
Year founded: 1941
Produced in: United States, Denmark, France, Germany, the Czech Republic, Poland, Hungary, Slovakia, the United Kingdom and China
Warranty: 10-year installation warranty plus 20-years on glass, 10-years on product and 5-years on blinds and controls
Type of company: VKR Holding A/S, a limited company wholly owned by foundations and family
You have decided that you need lamp posts because they provide you with security and the ability to enjoy your yard at night and because they will add that little extra something that you have been wanting in your landscaping. You have also heard all of these great things about solar lamp post lights and are ready to try them out yourself, but don't know where to begin. This article will help you assess the different products available and will also help you figure out the ideal set-up for what you want.
Browse Solar Lamp Post Lights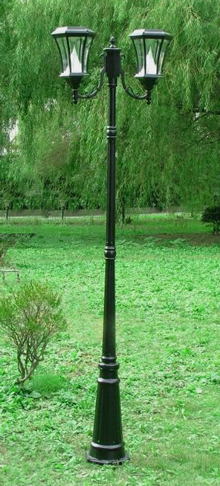 Solar lamp post lights provide a wide range of benefits over normal lamp posts. The first of these is that installation is made very easy since there is no need to wire the lamp post to your electric utility grid, since electricity is produced on-site. This means they can be placed anywhere, and you don't need to hire an electrician to install solar lamp posts.
They are hands-off and require very little maintenance. And since they produce their own electricity and the only cost you will incur is the purchase of the post itself, they pay for themselves quickly. Finally, they are environmentally friendly: if you want to reduce your carbon footprint, you can easily replace your old lamp post lights with solar lamp post lights and if you do not want to increase your carbon footprint but still want the benefits of yard lighting, you need only install these solar-powered lamp posts.
How solar lamp post lights work
Solar lamppost lights have small solar PV cells that charge a battery. An automatic light sensor switches the unit on when it becomes dark outside. The light bulb draws energy from the battery in order to turn on. Some products also come with an additional manual on/off switch.
On average, solar lamp post lights last seven hours on a full day's charge. The range of lighting varies from eight to twelve hours. Sometimes, products come with high/low brightness switches; low brightness allows a light to run for longer before needing to be recharged. Batteries for superior products are Lithium-ion (Li-ion) or Nickel-metal Hydride (Ni-MH), because these last several years before having to be replaced.
Related Article: Shedding Light On Solar Powered Lighting: How Long Will They Shine?
Solar lamp posts available
There are many solar powered products available to meet your needs, ranging from free standing lamp posts, wall-installed posts and independent lights that can be attached to a lamp post pole. There are single, double and triple lamp posts available, and styles range from Victorian style to modern. In other words, there are solar lamp posts to meet every taste a homeowner has.
Superior products are weatherproof and last longer on one day's charge. A few brands, including Gama Sonic, Unique Arts, Brinkmann and Smart Solar offer reliable products. These are leading manufacturers of solar lighting products. Brinkmann solar lights are low-maintenance and shine brighter and longer than many other products on the market. Gama Sonic solar lights are also brighter and last longer than usual, around 8-12 hours or three nights on a one-day charge. They use patented cone reflector technology on certain products and their lights are power-coated with cast-aluminum to prevent weathering. Smart Solar solar lights are creative and entertaining, and are great for decoration. Unique Arts solar lights also provide a variety of decoration opportunities, and use surgical grade stainless steel for weather resistance.
Solar lamp post lights come with LED (light-emitting diodes) light bulbs. Some people complain that LED lights are less bright than electric lights, but technology has advanced so quickly that there is hardly a noticeable difference anymore. In addition, LED lights last up to thirty years, much longer than a typical light bulb. Typical solar lamp posts have 6-12 LEDs per lantern. If you want a brighter lamp, you have the option of purchasing solar lamp post lights with multiple lanterns branching off from the central post. Alternatively, you can purchase more than one solar lamp post to illuminate a larger portion of your yard.
Related Article: Shedding Light on Solar Lighting: Are They Bright Enough?
Make sure to also check out the material used to make the solar lamp post light. Products on the market can be made with metal, wood and plastic, and choosing which material to buy comes down to personal preference.
To make sure the product you are choosing is good quality, look for the following qualities: a solid assembly, in which fixtures are put together using screw fittings or that have been riveted, soldered or welded together; good quality batteries, especially Nickel Metal Hydride or Nickel Cadmium (which are efficient but toxic batteries); quick connect-wiring systems to hook up several lighting fixtures to a central PV panel; and ground fixtures with spikes that allow for secure mooring in order to keep even tall fixtures stable in soft soil.
Related Article: Knowing the Good from the Bad in Solar Lighting
Installing solar lamp posts
Now that you have chosen your solar lamp post light based on these criteria, it is time to decide how to install it. The first step is setting up the solar lamp post light, which is easy with the manual that is included in your purchase.
The next step is deciding where to place the lamp post. You should make sure to put it where it receives a lot of sunlight, so the solar cell can charge the battery. Some solar lamp post lights do, however, come with separate solar panels; if you get one of these products, you can place the lamp post anywhere, place the solar panel somewhere sunny and link the two together. We recommend at least four hours of daylight for proper functioning. From there, it essentially comes down to your personal preference on where you want the solar lamp post light placed. As a general rule, you should place solar lamp post lightslight-distance away; that is to say, make sure to place the lights far enough apart that the circles of light do not unnecessarily overlap. To do this, measure the distance between the lamp post and the edge of the light it casts. That is the minimum distance your lamp post lights should be spaced.
Related Article: Spacing Solar Powered Lighting
Finally, we get to the installation itself. Like we said before, this is incredibly easy and you do not need to hire an electrician. All you need to do is anchor the post to the ground according to the instructions that you receive in the manual. If you change your mind on where you want the lamp post placed, you can easily move it. If the solar panel is separate, you have to install the solar panel on the top of the lamp post or somewhere else (depending on the amount of sunlight received) and subsequently wire the panel to the lamp post. Maintenance over the years is important but simple, as all you have to do is wipe off occasional dirt to make sure the solar panel receives enough sunlight. Then, all you have to do is to wait for the solar cell to charge, for the night to come, and watch as your solar powered lamp post light turns on and illuminates your yard.
Now that you know what to look for in a product and how to go about placing and installing your solar lamp post light, you are ready to purchase your first solar lamp post light. SolarTown's solar light store has all the solar lamp post lights and other solar landscape lights that you need, so make sure to stop by before leaving.