VELUX 22-1/2 in. x 22-1/2 in. Solar Powered VCS 2222
SKU:

VCS 2222

UPC:

5702327387035

SHIPPING:

Free Shipping (Est. Arrival 3-5 Business Days)
Bulk discount rates
Below are the available bulk discount rates for each individual item when you purchase a certain amount
Description
VELUX SOLAR POWERED VENTING SKYLIGHT
The VELUX VCS 2222 solar powered skylight is the cadillac of venting skylights. Easy installation with no need to run electrical wiring. Remote control to open and close as you please. All this while increasing light in your home and having access to fresh air as you please.
What happens if it rains? Won't all of my stuff get wet? No way! All VELUX Solar Skylights come equiped with a rain sensor that will automatically close the unit as soon as it detects any rain. Does it work when it's cloudy? Yes, it unit will continue to charge and operate even when it's cloudy!
GET IT, INSTALL IT, ENJOY IT.
VELUX Solar Skylights are made to bring in light and fresh air to otherwise dark, non-venting locations in your home. They come with a 10 year warranty on product and installation to keep your mind at ease and will have a wonderful. Talk to your local conractor for sizing and installation costs .
In addition to the circulation benefits you'll also get to fill your space with natural light and a new feeling of openess.
KLI 110 RF keypad
The KLI 110 RF keypad can be used for individual operation of one motor or simultaneous operation of several motors of the same product type using 1-way io-homecontrol® RF. The installation is wireless and battery powered.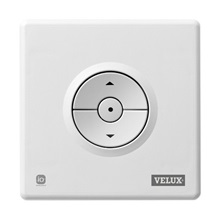 VELUX SOLAR POWERED
SKYLIGHT FEATURES
Replace Those Old Skylights
Solar Powered skylights can easily replace a fixed or manual skylight since no wiring is required.
Clean, Quiet & Safe Glass
Helps to keep you skylight clean, reduces unwanted outside noise and is made for out-of-reach installations.
Easy Pick&Click™ Blind Installations
A sunscreen accessory tray for standard site-built curbs allows for installation of VELUX Pick&Click!
VELUX SOLAR POWERED SKYLIGHTS
AVAILABLE SIZES
VELUX Solar Powered Skylights are available in the following size ranges. Your installer will help you determine the exact size needed for your space.
| | | |
| --- | --- | --- |
| W" | 21 | 491/2 |
| H" | x 267/8 | x 491/2 |
↔
VELUX SOLAR POWERED SKYLIGHTS
INSTALLATION COSTS
The cost to install the VELUX Solar Powered Skylights depends on your specific project. The estimates below include installation of a single (1) new skylight, the cost of labor for both the exterior as well as the interior finish. Talk to a local contractor get a better cost estimate based on your project.
New Skylight
$1,800 - $2,400
Replacement Skylight
$1,100 - $1,600

THE VELUX NO LEAK SKYLIGHT
GIVES YOU PEACE OF MIND
Daylight Skylights come with the No Leak Promise, a 10-year warranty on product and installation.
SOLAR POWERED SKYLIGHTS
INSTALLATION VIDEO FOR VELUX CURB MOUNTED SKYLIGHT
Below is a video outlining the installation procedures for a VELUX curb mounted sklightlight. If you have specific questions about installation or sizing please call or email us with questions. Our normal response time within just a few hours.
Specifications
Dimensions
| | | | |
| --- | --- | --- | --- |
| Daylight area (sq. ft.) | 2.63 | Product Width (in.) | 27.375 |
| Product Depth (in.) | 5.625 | Rough Opening Height | 22.5 |
| Product Height (in.) | 27.375 | Rough Opening Width | 22.5 |
Details
| | | | |
| --- | --- | --- | --- |
| Cladding Type | Aluminum | Operation | Push button |
| Color | Neutral Gray | Operation Type | Solar |
| Color Family | | Product Weight (lb.) | |
| Color Family | | Remote Control | Yes |
| Flashing Included | No | Returnable | 45-Day |
| Frame Material | Wood | Rotates for Cleaning | No |
| Glazing type | Laminated glass | Severe weather ready | Yes |
| Hardware Included | Yes | Skylight Mounting Type | Curb Mount |
| Insect screen | Yes | Skylight material | Glass |
| Low-E (Y,N) | Yes | Telescoping control rod | No |
| Material | Glass | U-Factor | 0.53 |
| Maximum roof pitch (degrees) | 60 | UV protection (%) | 99.9 |
| Minimum roof pitch (degrees) | 0 | | |
Warranty / Certifications
| | |
| --- | --- |
| Energy Star Qualified | North-Central,Northern,South-Central,Southern |
View All
Close