Outback Power Flexmax FM100-300VDC Mppt Charge Controller
SKU:

FM100-300VDC

UPC:

SHIPPING:

Free Shipping (Arrives in 3-5 Days)
Description
The original maximum power point tracking (MPPT) charge controller, the FLEXmax, increases PV array yield by up to 30% compared to non-MPPT controllers. FLEXmax FM60 and FM80 charge controllers can operate at their maximum rated current in ambient temperatures up to 104 F (40 C) and can be used with batterysystems from 12 to 60 VDC with PV open-circuit voltage as high as 150 VDC. The controllers set points are fully adjustable to allow use with a variety of battery types and charging profiles.

FLEXmax FM60 and FM80 controllers come standard with a four-line, 80-character backlit LCD screen that displays PV system performance with a 128-day history and can also be used for programming and monitoring system operation. Both controllers have a programmable AUX relay that can be used for control functions such as battery-enclosure fans, generator starting, or load control. The AUX output is 200 mA at 12 VDC.Use it to power a separate relay with a 12 VDC coil if you need to control more current or to control voltages (AC or DC) other than 12 VDC.


FLEXmax FM100-AFCI MPPT Charge Controller


OutBack Powers new FLEX max FM100-AFCI medium-voltage charge controller accepts higher
voltages from PV arrays to allow for longer wire runs with reduced wire sizes. It can be used to charge
24 or 48 VDC battery systems from PV arrays with voltage up to 290 VDC, but can withstand voltages
up to 300 VDC without damage. Output is rated at 100 A at 25C (with deration to 80 A at 40C), with
four-stage charging and an operating temperature range of -20 C to +60 C. NEMA 3R design allows
for outdoor installation.

The FM100-AFCI employs industry-leading technology to meet the most recent 2017 code compliance with regards to GFDI and AFCI detection and interruption, rapid shutdown, and related disconnecting means. Systems that use the FM100 AFCI require no additional GFDI or AFCI equipment. This makes it the most cost effective, easy to install, and low maintenance controller on the market for NEC 2014 and NEC 2017 compliant systems.

Built-in AUX relay has a 12 VDC output of up to 250 mA.
As the FM100 has no onboard display, an OutBack Power MATE3s or AXS Port MODBUS/TCP interface

is required to program this controller and access the 128-day data-logging history, and the programming and monitoring system functions.


The RTS remote temperature sensor is standard with the FM100-AFCI; and is optional with the FM60 and
FM80. FLEXmax charge controls connected to an OutBack inverter system with a HUB can use the
system RTS connected to the master inverter.
All FLEXmax charge controllers are covered by a 5-year standard warranty and are listed to UL 1741
and C22.2 No. 107.1 for the U.S.A. and Canada. The FM100 is also listed for IEC 62109-1.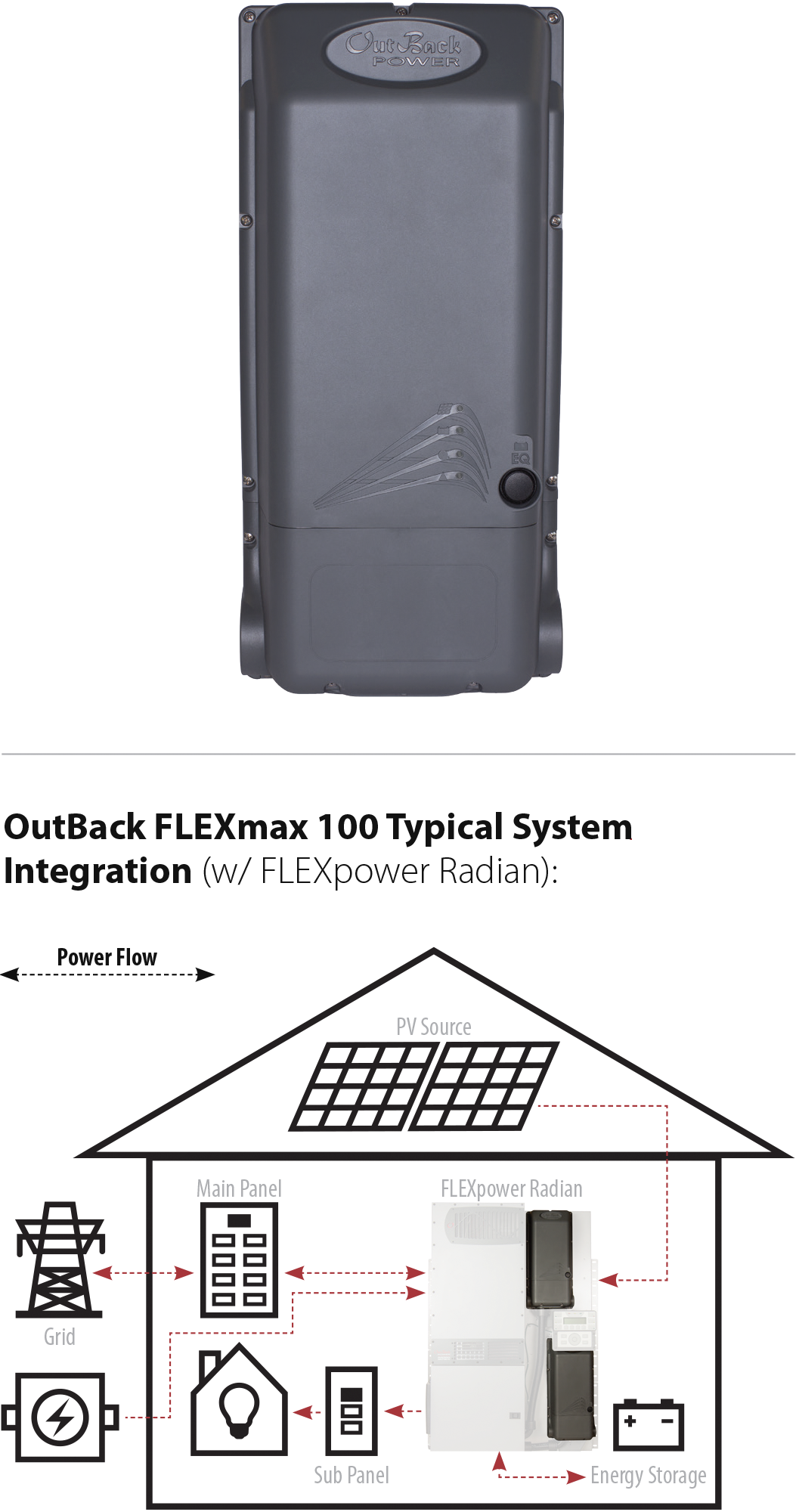 Product Highlights
100A output for up to 5kW of charging
Compatible with 24, 36 and 48VDC battery banks
Integrated ground fault protection
System configures quickly with smart programming wizards (MATE3s required)
300VDC open-circuit voltage limit enables 2-string configuration that minimizes BOS
The FLEXmax 100 is the latest innovation in Maximum Power Point Tracking (MPPT) charge controllers from OutBack Power.
The advanced FM100 MPPT algorithm offers increased energy harvest from the PV array than other MPPT controllers. The FLEXmax 100 delivers both higher voltage and higher power, offering improved flexibility and performance.
OutBack network communications and OPTICS RE compatibility allows the FLEXmax 100 to be remotely programmed, monitored and controlled via any internet connected device providing unrivalled system integration.
The FM100-300VDC is a top-of-the-line high performance, efficient and versatile charge controller for your advanced power system.
NOTICE: The PNL-GFDI-80 series ground fault breakers that are included in many prewired load centers and FP systems are NOT rated for use on circuits shared with an FM100-300VDC! The FM100-300VDC charge controller is equipped with an internal ground-fault protection device and simply requires 300-VDC rated overcurrent protection on its input and output circuits. The PNL-100/125-300VDC series breakers are recommended for the battery side and the PNL-40/60/80-300VDC series breakers are recommended for the PV array side. Due to the different voltage ratings, OutBack Power does not recommend mixing the FM100-300VDC with the FM60 or FM80-150VDC controllers on the same battery bank. Be sure to thoroughly review installation instructions when installing OutBack Power equipment.
Specifications
| Model: | FLEXmax 100 |
| --- | --- |
| Nominal Battery System Voltage | 24VDC / 36VDC / 48VDC |
| Maximum Continuous Output Current | 100A |
| Maximum Input Current (Short-Circuit) | 64A |
| Maximum Array (STC Nameplate) | 3000W / 4500W / 6000W (charging output limited to 100A at battery voltage) |
| Maximum PV System Voltage 1 | 300VDC |
| Operating Input Voltage Range 2 | 30VDC to 290VDC |
| Standby Power Consumption | ~2.5W |
| Power Conversion Efficiency | 24V: 96% 48V: 97% |
| Peak Efficiency | 24V: 97.5% 48V: 98.8% |
| Charging Regulation | Three-stage |
| Voltage Regulation Set Points | Absorption, float, silent and equalization |
| Equalization Charging | Programmable start time, voltage set point and duration, automatic termination when completed |
| Battery Temperature Compensation | Adjustable from 2mV/cell/°C to 6mV/cell/°C |
| Voltage Step-Down Capability | Down convert from any acceptable array voltage to any battery voltage (example: 72VDC array to 24VDC battery) |
| Programmable Auxiliary Control Output | 12VDC output signal which can be programmed for different control applications (maximum of 0.25ADC) |
| Status Display | LED indicators |
| Remote Display and Controller | MATE3s compatible |
| Network Cabling | Proprietary network system using RJ-45 modular connectors |
| Data Logging | 128 days |
| Operating Temperature Range 3 | Ambient, -25°C to 60°C (-13°F to 140°F), output power reduced above 25°C |
| Ingress Protection Rating | IP54 |
| Enclosure Type | 3R |
| Maximum Altitude Rating | 10,000ft |
| Conduit Knockouts | Bottom and sides |
| Warranty | 5 years |
| Weight (lb/kg) | Unit: 18.3 / 8.3 Shipping: 22 / 10 |
| Dimensions H x W x D (in/cm) | Unit: 22 x 8.8 x 6 / 55.9 x 22.4 x 15.2 Shipping: 25.5 x 12 x 10 / 64.8 x 30.5 x 25.4 |
| Options | Remote Temperature Sensor (RTS), HUB4, HUB10.3, MATE3s |
| Certifications | UL 1741, CSA C22.2 No. 107.1, IEC 62109-1 |
| Minimum Battery Bank Size | 100Ah |
| Charging Range (Output) | 20VDC to 68VDC |
| Additional Features | Built-in GFCI, field-replaceable cooling fan |
1 Highest open-circuit voltage before equipment damage. 2 Operational limits. 3 Derates to 50A at 60°C in a 48VDC system with 220VDC input. Lower input voltage improves thermal performance.
View All
Close