Solar Water Heaters: Oh, So Many Choices
Overview
VELUX is an environmentally-conscious company that is focused on the creation of skylights and roof windows. Today, the company's product lines include blinds, electronic accessories, solar panels, and shades, in addition to several skylights and roof windows. The company, based in Denmark, aims to help residents and businesses get more daylight and sunlight into their spaces with VELUX products. The company, founded in Denmark, is now officially a group of companies, which has a physical presence in more than 40 countries.
Company website: https://www.veluxusa.com/
Year founded: 1941
Produced in: United States, Denmark, France, Germany, the Czech Republic, Poland, Hungary, Slovakia, the United Kingdom and China
Warranty: 10-year installation warranty plus 20-years on glass, 10-years on product and 5-years on blinds and controls
Type of company: VKR Holding A/S, a limited company wholly owned by foundations and family
What to Consider When Shopping for Solar Water Heating Systems
Solar water heaters are an efficient technology used to provide hot water to your home at a fraction of the costs of traditional heating methods. Remarkably simple, solar water heaters utilize the sun's free energy to heat your home's water. There are several kinds of systems available to meet your homes' individual needs. Here at SolarTown we have broken down the complicated language of solar water heaters to aid you on your search for the best system.
Make Sure that the System You Choose is Compatible with the Climate You Live In
The most important factor needed to know when selecting an appropriate water system is the climate in which you live. The climate determines which features will maximize heating potential as well as protecting your investment from the weather.
Solar water heaters are most vulnerable to freezing temperatures. Knowing whether your home experiences frequent and long periods of below freezing temperatures is important. Solar water heaters work by capturing sunlight and transferring this captured heat to water passing through the system. This transaction occurs in the solar collectors which reside outside your home exposed to the elements.
Solar water heaters are built to work in moderate and cold climates. Moderate climates experience a few mild freezes to no freezes during winter. Cold climates experience freezing temperatures frequently and for longer durations. Once you locate a climate zone for your home, you can begin to select solar water heating systems designed to work in those areas.
Below is a chart and map of the United States with average minimum temperatures courtesy of the United States Department of Agriculture. If you go to this map on the USDA web site, you can click on any area in the US to obtain a close-up of that region.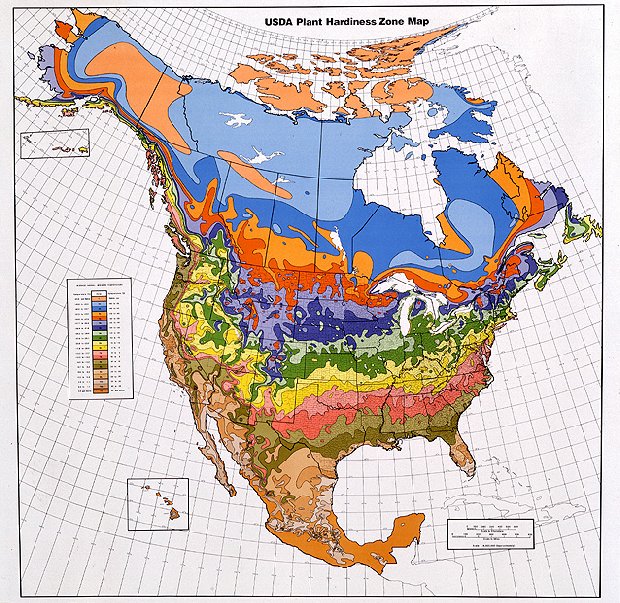 Major Systems Narrow the Choices of Solar Water Heating Systems
There are four primary solar water heater system types on the market. Available are the integrated collector system (ICS), the drainback systems, the indirect closed loop antifreeze systems and thermosiphon (also spelled as thermosyphon) systems. The thermosiphon system may be a direct or indirect application.
Moderate Climate Solutions
People living in climates where freezing temperatures are possible should generally not consider the ICS systems or thermosiphon systems. ICS systems combine water storage and water heating in the collectors on your roof. The water is directly heated in the collectors leaving the collectors more vulnerable to freezing. SolarTown currently carries one ICS system, the SunCache, where the manufacturer reports that it will work in climates with few freezing temperatures, and provides a map showing that it can be installed in most of California, Florida and Texas, among other moderate climates.
Cold Climate Solutions
If you live in a cold climate you want to protect your system from freezing. This can be done by draining the water from your system. Cold climate systems are often equipped with a drainback reservoir that stores the water outside the system in an insulated tank to avoid freezing. Another colder climate system option is to use a heating fluid such as glycol, similar to antifreeze, to help prevent freezing. People living where freezing temperatures can occur, most of the continental United States, should focus their search on drainback systems and the indirect closed loop systems. These systems are engineered to protect your solar water heating system from freezing.
Drainback systems remove the water from the collectors when not in operation and during periods of freezing temperatures. The water is stored in an insulated box. Drainback systems are the first safeguard to protecting your system.
The indirect systems use antifreeze in the collectors protecting them from freezing temperatures. With the use of anti-freeze the collectors are able to remain in operation even during the coldest temperatures leaving you with a warm supply of water. The indirect systems provide consumers with the greatest range of options and the greatest security.
Where is the Water Heated
It is also important to consider where and how your home's water is heated. Direct heated systems heat the water used in your home right in the collectors. Because your home's water is heated in the collectors, systems using this design are better for warmer climates. Many of these systems may come equipped with the drainback option for some freeze protection, but areas with prolonged cold weather should stay away from direct systems.
The best system for these cold climates again is the indirect closed loop systems that use an anti-freeze. The anti-freeze collects the heat in the collectors and is then moved to the storage tank where it passes through a heat exchanger heating the water in the tank. In the indirect closed loop systems no water is located outside the home. In general, the indirect closed loop anti-freeze systems are the most versatile and can be placed just about anywhere.
Many Systems, Many Choices
There are many systems built by many manufacturers. Each system is built using several distinct pairings of system options. For instance, drainback reservoir system might heat water using an indirect method. Refer back to our overview of solar water heating systems in the Learning Center to help understand these terms. It is important to read the system specifications provided by the manufacturer carefully. Also work with your contractor to accurately decide which system is most appropriate.
Other Options for Solar Water Heating Systems
There are other options to consider as well, including the size of your family and when hot water is used and needed most. Your desire for simplicity or your desire for efficiency and piece of mind need consideration. Larger families will require a larger system and a larger storage tank. Large families also may invest in systems that act as pre-heaters to the conventional water heating system. Solar water heating systems are most efficient later in the day. If your home uses more hot water in the morning, a large storage capacity might be considered as well as a system that does not have to be drained when not in use. We will explore some of these other options in future Learning Center articles.