SunRise 30-Watt Solar Attic Fan - Gable Mount
SKU:

GBL 1600 FT

UPC:

SHIPPING:

Free Shipping (Arrives in 3-5 Days)
Description
SunRise Solar Gable Mount Solar Attic Fan
(Top) SunRise 1600 30-watt Solar Gable Fan with Thermostat The SunRise Solar gable fan will work hard to remove hot air and moisture from your attic all year round. Removal of hot air from your attic, garage, or shed can increase your comfort and reduce energy usage, saving you money. Increased attic temperatures in the summer can wreak havoc on your roof and elevate the temperature in your home causing unnecessary discomfort. During the winter months your new solar gable fan can reduce moisture and condensation in your attic. Keeping your attic dry can reduce the effects of mold and many other issues that can arise from a damp environment.
Get It, Install It & Enjoy It.
Get It, Install It & Enjoy It. Installation of the SunRise Solar gable fan is straightforward and easy. No need to cut any holes in your roof to install this attic fan. Simply follow the provided installation instructions, or contact a local contractor or handyman for assistance.
Specifications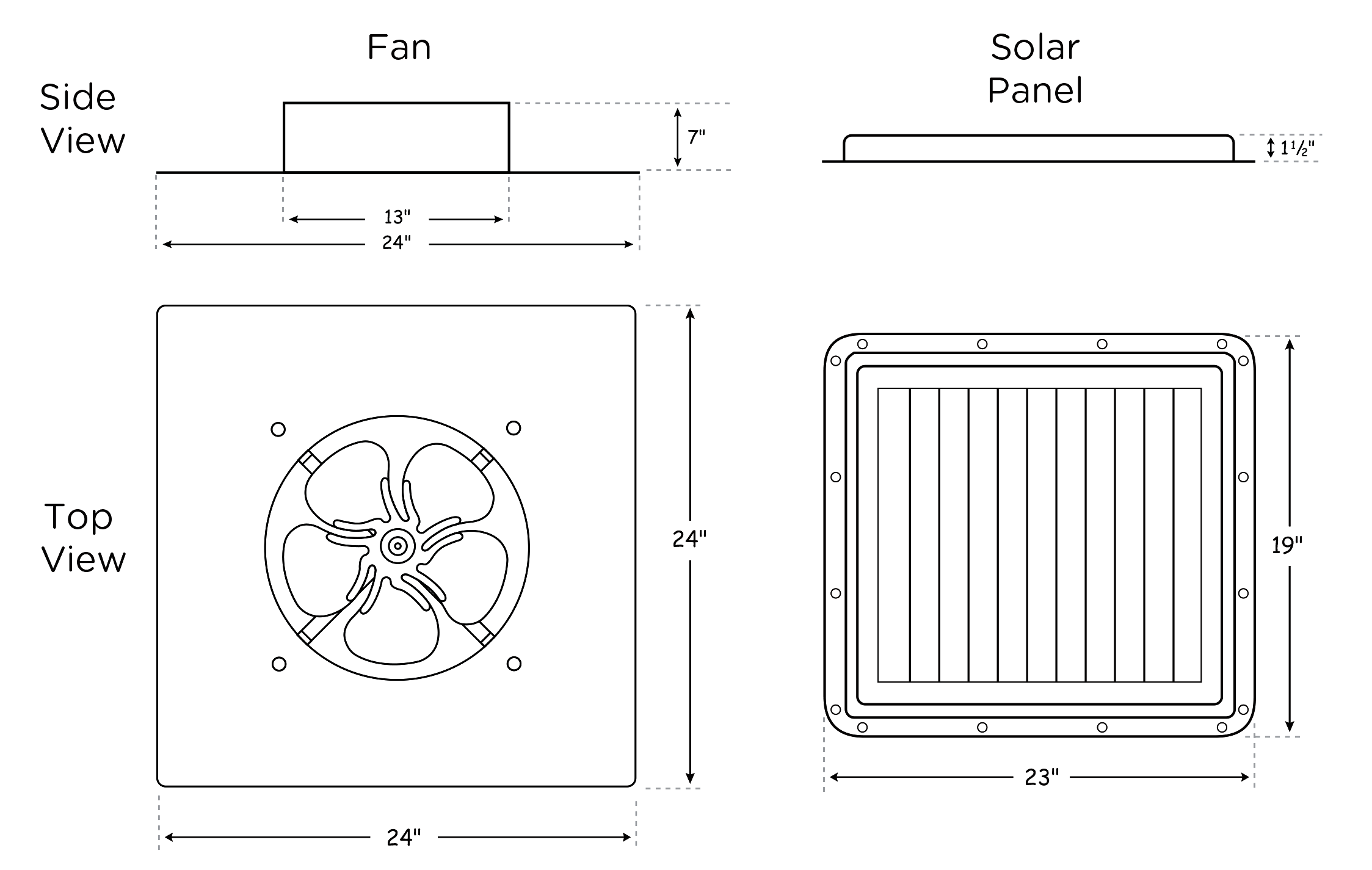 Solar Panel
Impact resistant crystalline with tempered glass surface in self-flashing composite mounting tray
Base Size
24" x 24"
Motor
Ultra quiet, brushless DC motor
Shipping Weight
17 lbs.
Wire
8/2 red/black
Package Size
27.25" x 25.5" x 11.25" wide.
Fan Blade
1 2" diameter, 5-blade poly-carbon, computer balanced hub
Available Models
GBL 850, GBL 850 FT*
GBL 1050, GBL 1050 FT*
GBL 1250, GBL 1250 FT*
GBL 1600†, GBL 1600 FT*†

FT: Optional fixed thermostat turns fan on at 80F and off at 65F during daylight hours

† 1600 model has aluminum framed solar panel and (4) aluminum "L" brackets for mounting the panel to the roof

Hardware
ALL stainless steel fasteners, including welded stainless steel screen
Top and Base
V-Stabilized ABS composite (paintable)
Airflow
The more intense the sun shines,the faster the SunRise runs
Warranty
25 Year Limited Warranty
Panel Dimensions
Height 1.5", Top 24" x 23"
Fan Dimensions
Height 7", Top 24" x 24"
Installation
Guide to Installing Gable Mount Unit
GABLE VENT UNIT INSTALLATION
The SunRise™ Solar-Powered Gable Vent is designed to mount behind existing louvers on the inside of the attic. If no louver exists, one must be installed. Louvered vent should be mounted in the center of the upper portion of the gable wall as high as possible. There is some loss in fan output because louvers block some of the air flow. Metal louvers have more open area than wood louvers and usually allow more air flow.
When installing the SunRise Gable Vent behind louvers, you should seal off or box in any louver area not covered by the ventilator housing to prevent air leakage and recirculation. Allow at least one square foot of air intake area for every 300CFM of ventilator capacity. Air intake should come from the eaves (soffit), or a louver mounted on the opposite gable end of attic.
CAUTION: When installing louvers, do not remove existing structural members without providing alternate support.

Mounting Instructions:
Screw or nail Gable Fan Housing to framing directly behind gable louver as discussed above.
Remove solar panel from packing. Find a suitable location on the roof to mount solar panel – a Southern or Western-facing roof slope will allow the solar panel to capture the most sunlight during the heat of the day. The solar panel comes with a 15' extension cord, so be sure the solar panel is not more than 15' from the Gable Fan Housing inside the attic.
If possible, feed the wire into the attic through an existing vent hole or ridge cap. Or, drill a 3/8" hole through the roof and feed the wire down into the attic. Apply a generous amount of silicone or other sealant to the area where the wire goes through roof.
Gently set the solar panel in place, and mount to roof using the (8) exterior-grade screws provided. Apply sealant to screw heads and around perimeter of mounting flange to prevent leaks.
From inside attic, connect wires to solar panel, matching red (or white) to red and black to black.
Gently plug wire connectors into tabs on side of motor, red to red and black to black.
Use included wire ties to secure loose wire to motor bracket arm.
NOTE: Plugging a red wire to a black, or black to red, will not harm the motor, but airflow will be reversed. Please make sure connections are correct before completing the installation.
Warranty
Limited Warranty
The SunRise Solar-Powered Attic Fan has a 25 year limited warranty. Each unit has been carefully designed and assembled at our plant in Indiana. Each unit is flash-tested for operation, and quality checked for defects before leaving our facility. This warranty applies to the original purchaser, whose name appears on the warranty certificate and is at the location shown on the warranty certificate. This warranty is non-transferable. Any alteration of the product will void the warranty.
All parts and mechanisms are to be free of defects in material and workmanship. The word "defects" as used in this warranty, is defined as imperfections that impair the functionality of the product. This Limited Warranty does not cover damage caused by misuse, abuse, scratching, corrosive atmosphere contaminants, lightning, earthquakes, windstorms, tornadoes, flooding, fire, modification, vandalism, negligence, or any other act of God or other causes beyond the control of SunRise Solar Inc., or the installing dealer/distributor. This warranty does not cover installation or roof leakage, as that issue will be the responsibility of the installer. This warranty does not cover color fading or normal wear and tear of the materials, which may take place with the passage of time.
At no time shall SunRise Solar Inc. be liable for direct or indirect loss, consequential damage, or any other claims except as provided for in this warranty. Units needing repair must be returned to SunRise Solar in order for warranty repairs to be performed. This warranty does not cover the cost of labor, applicable taxes, shipping, or other consequential expenses related to the removal, return, or re-installation of the product.
Return Policy
Return Policy
If for any reason you are not satisfied with your purchase, you may return the purchased product to SunRise Solar within thirty (30) days of the original date of purchase for a full refund including shipping with a *re-stocking fee, provided it has not been installed, in original packaging, and in new & resalable condition. Refunds for items returned within thirty days of the purchase date will be credited in the same form as the original payment type.
SunRise Solar WILL NOT ISSUE REFUNDS FOR EQUIPMENT THAT HAS BEEN PREVIOUSLY INSTALLED, DAMAGED, OR OTHERWISE RETURNED UNUSABLE FOR RESALE. Any damaged item must be reported within 7 days. No refund after 30 days, no exceptions.
Please note, for ALL returns, you must first call our office (219-558-2211) to authorize your return. All packages returned without prior authorization will be refused and sent back to shipper.
* Re-Stocking Fee
A 20% RESTOCKING FEE WILL BE DEDUCTED FROM ORIGINAL PURCHASE PRICE ON ALL ITEMS RETURNED WITHIN 30 DAYS.
Exchange Policy
If you wish to exchange your item, you may return the purchased product to SunRise Solar within thirty (30) days of the original date of purchase in exchange for another model provided it has not been installed, in original packaging, and in new & resalable condition. Exchanges will be charged a reduced re-stocking fee of 10%. SunRise Solar will assume shipping costs on item returned. Customer will be responsible for shipping charges of "new" item shipped.
View All
Close