SunRise 30 Watt Flat Base Solar Attic Fan for Attic Areas up to 1600 sq. ft
SKU:

FB 1250 FT

UPC:

SHIPPING:

Free Shipping! (Arrives in 3-5 Days)
Description
SunRise Solar Flat Base Solar Attic Fan
The Flat Base Solar Attic Fan is SunRise Solar's top selling unit and it's easy to see why. Just like a traditional attic fan, solar attic fans remove the hot, stagnant air from your attic during the summer. This allows your air conditioning unit to cool your home more efficiently.
Solar attic fans can cut your energy costs by up to 30% while helping to extend the life of your HVAC system.
Get It, Install It & Enjoy It.
Are you ready to reduce your attic temperature by up to 50 degrees and eliminate winter time moisture? Solar attic fans require no wiring which reduces the cost of installation.
Your monthly operational costs are zero and the SunRise Solar attic fans qualify for a 30% Federal tax credit*. Last but not least, these units are designed and built in the USA.
Specifications
Solar Panel
Impact resistant crystalline with tempered glass surface
Unit Dimensions
Height 7", Top 25.5" x 21.25"
Motor
Ultra quiet, brushless DC motor
Base Size
24.5" x 24.5"
Wire
18/2 red/black
Unit Weight
17 lbs
Fan Blade
12" diameter, 5-blade poly-carbon, computer balanced hub
Shipping Weight
19 lbs
Hardware
ALL stainless steel fasteners, including welded stainless steel screen
Package Size
27.25" x 25.5" x 11.25" wide
Top and Base
Stabilized ABS composite (paintable)
Available Models
FB 850, FB 850 FT*, FB 1050, FB 1050 FT*, UV FB 1250, FB 1250 FT*, FB 1600, FB 1600 FT*
Airflow
The more intense the sun shines, the faster the SunRise runs
Warranty
25 Year Limited Warranty
* FT: Optional fixed thermostat turns fan on at 80F and off at 65F during daylight hours
Installation
Guide to Installing Flat Base Unit
FLAT BASE UNIT INSTALLATION
NOTE: For best operation, install solar fan where it will receive direct sunlight. South or West facing roof slopes will work best.
Cut a 14 1/2" diameter hole between rafters approximately 24"-30" down from roof peak to center of hole.
Trim away top rows of shingles an additional 2" to allow base flashing to slip under top rows of shingles and over bottom rows.
Slip the flat base under the top rows of shingles and center unit over opening with the SRS Logo on the bottom.
Gently lift the unit and apply sealant under lower edge and sides of base flashing.
Pre-drill (4) mounting holes along the bottom edge of the base flashing, and (1) hole on each side approximately 2" up from the bottom edge.
Use exterior-grade screws to secure unit to roof deck. Apply sealant to screw heads.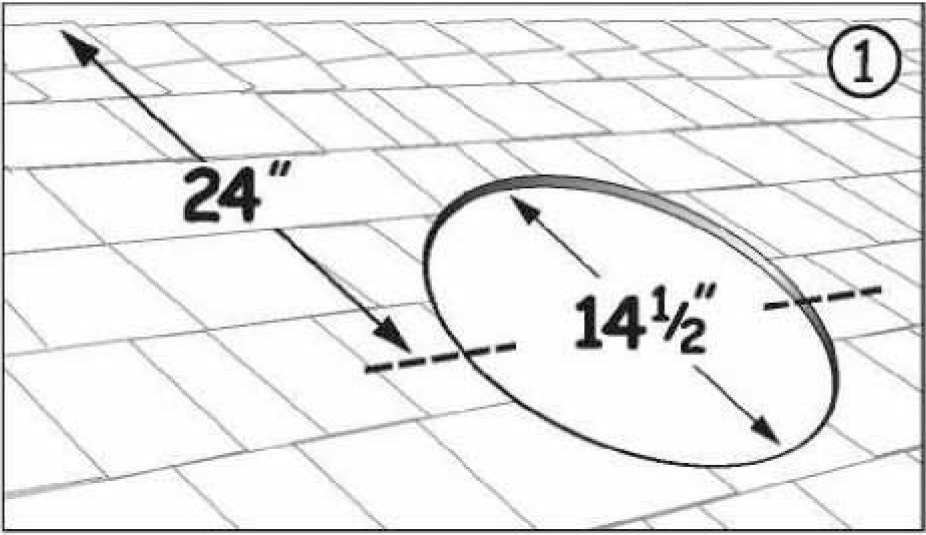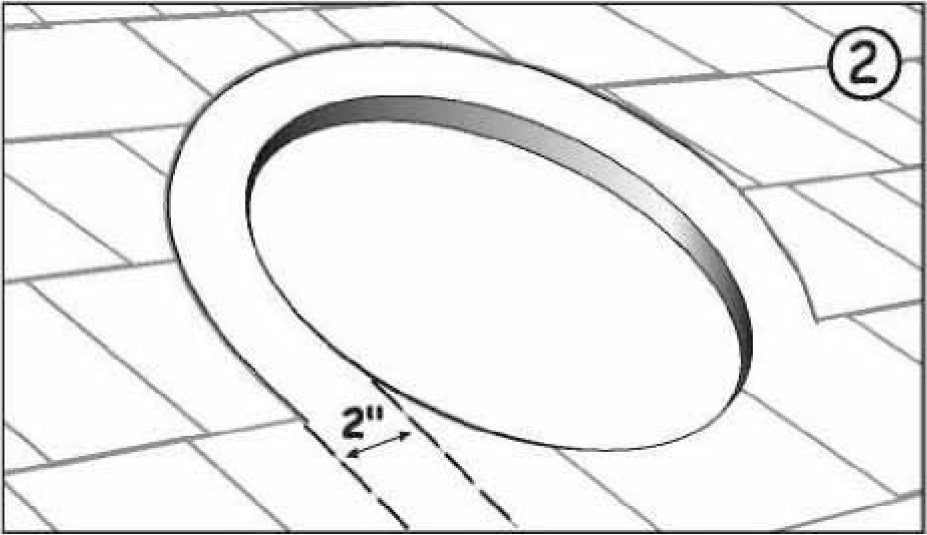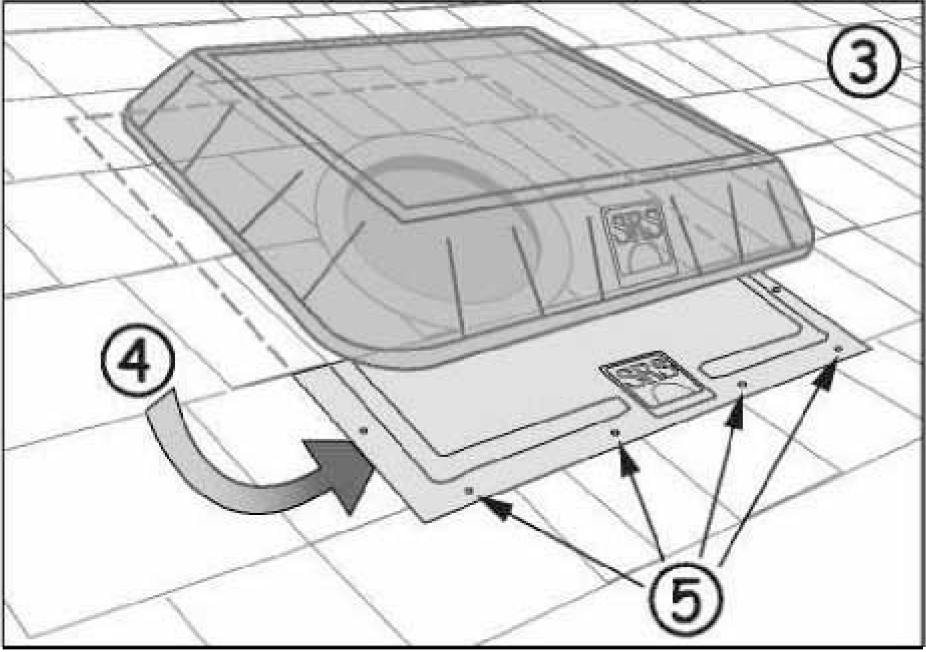 * THIS PAGE APPLIES ONLY TO MODELS WITH A FIXED THERMOSTAT
Fixed Thermostat Information
This fan has been factory equipped with a thermal on/off switch. This switch is designed to turn the fan: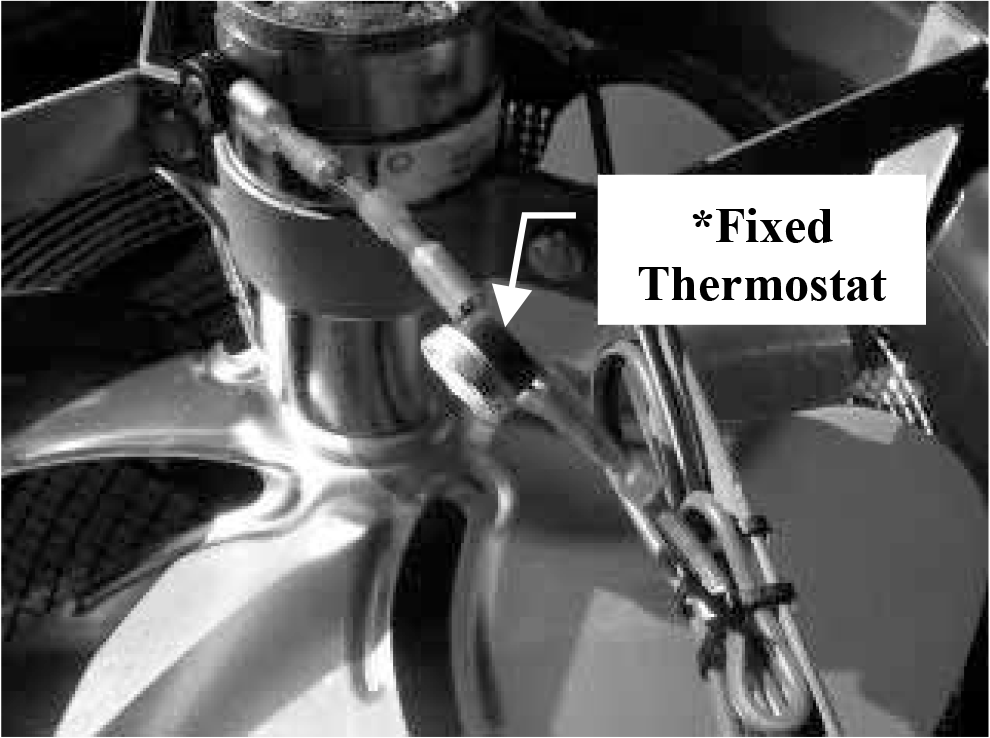 ON: 80° F
OFF: 65° F
(+/-7°)
Example: Attic temperature rises to 80° and fan turns on. Once it cools to 65° the fan will shut off. If evening comes and temp does not fall below 65° to reset the switch, then the unit will start the next morning at sunrise and continue to cool the attic. However, if the attic temp falls below 65° at night, then the switch will shut off and will not turn the unit on again until attic temp reaches 80°.
INSTALLER: THIS FAN WILL NOT RUN UNLESS THE AMBIENT (AIR) TEMPERATURE IS AT OR NEAR 80°. YOU MAY TEST OPERATION OF THE THERMOSTAT BY BLOWING WARM AIR DIRECTLY ON THE THERMOSTAT TO HEAT IT TO 80°, MAKING SURE SOLAR PANEL IS EXPOSED TO SUNLIGHT AT THE SAME TIME.
Warranty
Limited Warranty
The SunRise Solar-Powered Attic Fan has a 25 year limited warranty. Each unit has been carefully designed and assembled at our plant in Indiana. Each unit is flash-tested for operation, and quality checked for defects before leaving our facility. This warranty applies to the original purchaser, whose name appears on the warranty certificate and is at the location shown on the warranty certificate. This warranty is non-transferable. Any alteration of the product will void the warranty.
All parts and mechanisms are to be free of defects in material and workmanship. The word "defects" as used in this warranty, is defined as imperfections that impair the functionality of the product. This Limited Warranty does not cover damage caused by misuse, abuse, scratching, corrosive atmosphere contaminants, lightning, earthquakes, windstorms, tornadoes, flooding, fire, modification, vandalism, negligence, or any other act of God or other causes beyond the control of SunRise Solar Inc., or the installing dealer/distributor. This warranty does not cover installation or roof leakage, as that issue will be the responsibility of the installer. This warranty does not cover color fading or normal wear and tear of the materials, which may take place with the passage of time.
At no time shall SunRise Solar Inc. be liable for direct or indirect loss, consequential damage, or any other claims except as provided for in this warranty. Units needing repair must be returned to SunRise Solar in order for warranty repairs to be performed. This warranty does not cover the cost of labor, applicable taxes, shipping, or other consequential expenses related to the removal, return, or re-installation of the product.
Return Policy
Return Policy
If for any reason you are not satisfied with your purchase, you may return the purchased product to SunRise Solar within thirty (30) days of the original date of purchase for a full refund including shipping with a *re-stocking fee, provided it has not been installed, in original packaging, and in new & resalable condition. Refunds for items returned within thirty days of the purchase date will be credited in the same form as the original payment type.
SunRise Solar WILL NOT ISSUE REFUNDS FOR EQUIPMENT THAT HAS BEEN PREVIOUSLY INSTALLED, DAMAGED, OR OTHERWISE RETURNED UNUSABLE FOR RESALE. Any damaged item must be reported within 7 days. No refund after 30 days, no exceptions.
Please note, for ALL returns, you must first call our office (219-558-2211) to authorize your return. All packages returned without prior authorization will be refused and sent back to shipper.
* Re-Stocking Fee
A 20% RESTOCKING FEE WILL BE DEDUCTED FROM ORIGINAL PURCHASE PRICE ON ALL ITEMS RETURNED WITHIN 30 DAYS.
Exchange Policy
If you wish to exchange your item, you may return the purchased product to SunRise Solar within thirty (30) days of the original date of purchase in exchange for another model provided it has not been installed, in original packaging, and in new & resalable condition. Exchanges will be charged a reduced re-stocking fee of 10%. SunRise Solar will assume shipping costs on item returned. Customer will be responsible for shipping charges of "new" item shipped.
View All
Close