Outback FLEXpower One FXR2524A-01 2.5kW 24 Volt Pre-wired Single Inverter System
SKU:

FP1 FXR2524A-01

UPC:

SHIPPING:

Free Shipping (Arrives in 1-2 Weeks)
Frequently bought together:
Description
Three Reasons to Choose the FLEXpower ONE from OutBack Power:
1. ENGINEERED FOR RELIABILITY
Ideal for small power applications: cabins, remote communication sites, backup power
Available in sealed or vented units with die-cast aluminum chassis
Extensive quality and reliability testing, including Highly Accelerated Life Testing (HALT)
15 years of experience manufacturing and improving products for fault-intolerant, mission-critical applications
Standard 5 year warranty (extended 10 year warranty available)
2. DESIGNED FOR FLEXIBILITY
Available in six models for 120VAC or 230VAC applications
Seven different programmable operational modes, with generator assist
Advanced Battery Charging (ABC) programmability
GridZero operating mode minimizes grid dependence in areas where incentives are changing and utility sell-back is limited
Sinewave output in 12V, 24V or 48V versions with a typical operating efficiency up to 93%, field selectable 50Hz/60Hz
Sealed models available for operating in harsh environments
Sealed Models: 2500VA or 2300VA
Vented Models: 3000VA, 3500VA or 3600VA
3. EASY-TO-INSTALL, MONITOR AND CONTROL
Factory tested, pre-wired and pre-configured
Fast installation—just hang on the wall with included bracket and make all necessary connections
Field-serviceable modular design and global technical support
Monitor, command and control from any internet-connected device with OPTICS RE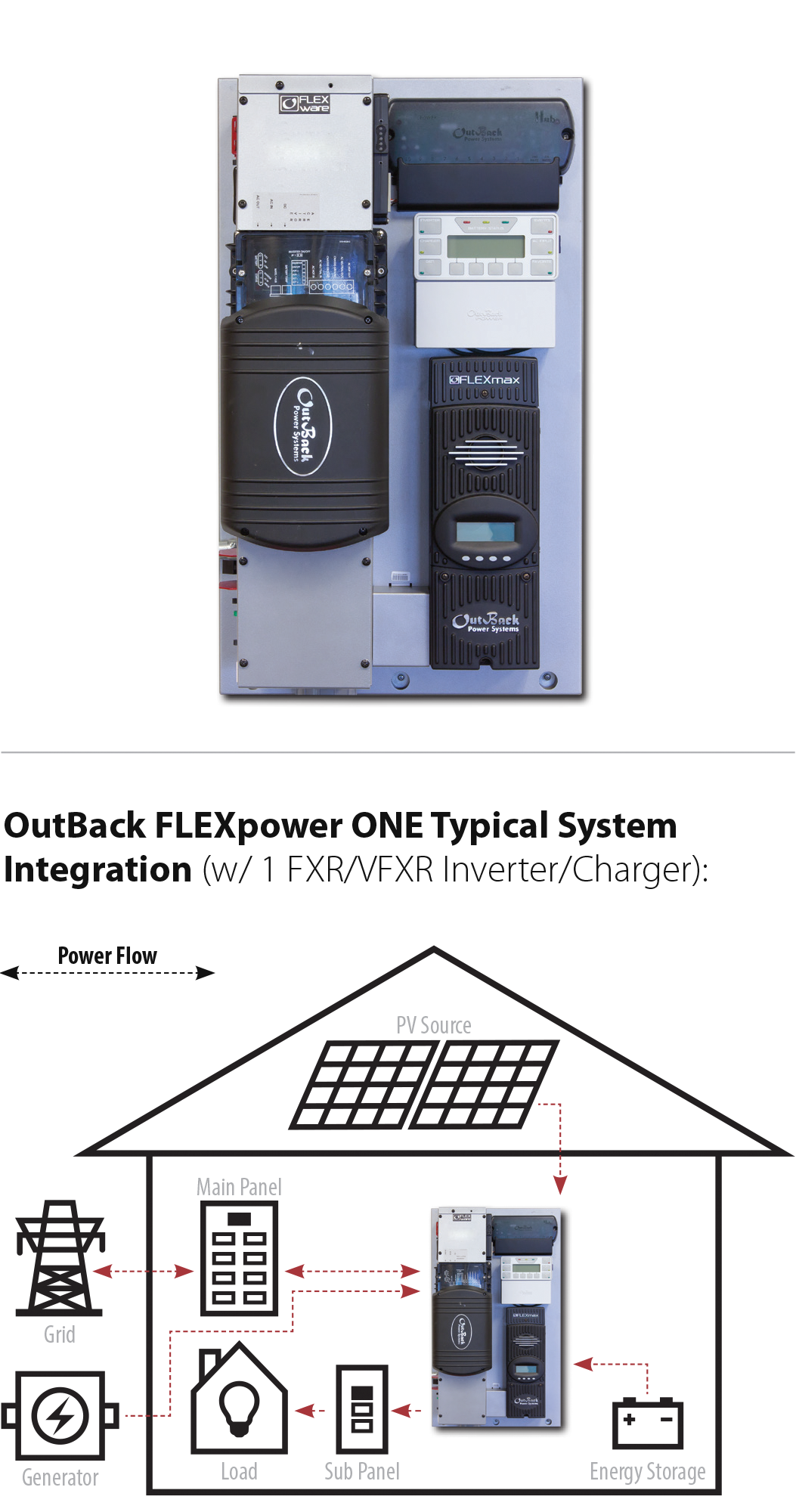 Product Highlights
Factory tested, pre-wired and pre-configured systems
Fast installation—just hang on the wall with the bracket (included) and make connections
Off-grid and grid-tied functionality in one flexible system
Powerful system in a compact, space-saving footprint
Field-upgradable software
Ample AC and DC breaker provisions
GridZero technology effectively lets users "zero out" the utility grid if enough renewables are present, reducing or even eliminating grid dependence
Advanced Battery Charging (ABC) supports a wide range of battery technologies including lithium-ion
All components carry necessary ETL certifications
OutBack's pre-assembled and pre-wired FLEXpower systems are equipped with the OutBack FXR / VFXR Series inverter/chargers. This means that the most advanced inverter features are now available on the industry's most trusted and proven systems platform, for unmatched flexibility and value.
6 models available for 120VAC or 230VAC applications, ranging from 2500W to 3600W.
50Hz/60Hz selectable for regional diversity
Programmable for seven different modes including GridZero, which blends utility power and stored renewable energy, minimizing grid dependence; also support mode for seamless generator integration
Advanced Battery Charging (ABC) with expanded charging voltages and time parameters accommodates charging profiles of new and emerging storage technologies including lithium ion, and aqueous types
Field-upgradability eliminates system down-time for critical updates
Remote system control and monitoring available through any internet-enabled device with OPTICS RE
The FLEXpower ONE FXR series is ideal for residential and commercial applications including cabins, vacation homes, farm buildings, remote communications sites and back-up power systems, with all necessary components integrated into a compact hang-on-the-wall system with a minimal footprint.
Specifications
| Model: | FXR2524A |
| --- | --- |
| Description | FXR2524A, 2.5kW FLEXpower ONE |
| Inverter(s) | FXR2524A |
| FW-X240 | — |
| Bypass | 120VAC Bypass |
| Outlet | NEMA 5-20R |
| Inverter OCPD** | 250A |
| PV OCPD** | 80A |
| RTS | Yes |
View All
Close